At Kids' Domain Early Learning Centre children encounter environments where creativity, imagination and the wonder of learning thrive.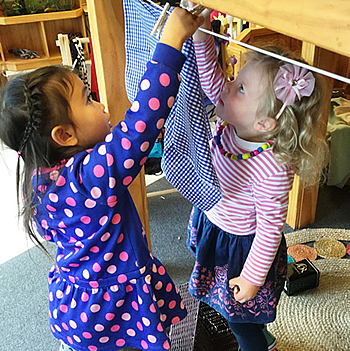 Our aesthetically designed and well-resourced indoor and outdoor spaces stimulate children's engagement, exploration and knowledge building strategies for an enriching early childhood education.
INDOOR SPACES
Our early childhood centre has up to 100 infants, toddlers and young children attending each week day. Indoor spaces are divided into four distinct rooms where groups of up to 25 children and their teachers live and learn together. Each room has been given a metaphorical name by its teachers to symbolise qualities of value. Pounamu and Kereru are calm, nurturing, sensory-rich spaces for infants and toddlers aged between 3 months to around age 3 years. Aroha, the space for 3 – 5-year-old children, has two adjoining rooms called Mātauranga (knowledge) and Tūmanako (hope). This interconnected space invites children to investigate, play with ideas, generate hypotheses, take risks, and problem-solve in collaboration with others.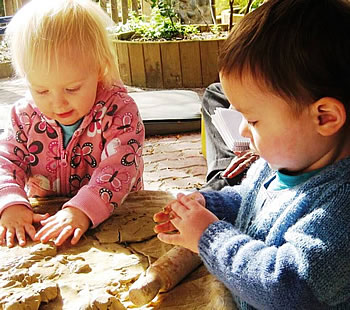 The Kids' Domain outdoor environment has a variety of distinct spaces designed to allow freedom of movement between the indoors and outdoors. Outdoor spaces connect children with the natural world every day. It is a given that children who attend Kids' Domain will be interacting with nature and spending time outdoors all year round.
Children go outdoors with bare feet, feeling the different elements and surfaces through their skin; using all their senses to engage with the natural world. They get wet, dirty and muddy, as they run, fall, jump, hide, climb, dig, rest, relax; as they learn to use their bodies and develop competency and resiliency.
They will raise plants from seeds, plant seedlings in our kitchen garden, feed and nurture the growing gardens, maintain the worm farms with scraps from the kitchen to create food for the soil and plants. They will pick herbs and harvest vegetables from the garden to be used by our chefs in the meals they cook each day; a sort of 'organic preschool'.
SPACES BEYOND
Regular trips to encounter the spaces beyond our childcare centre have enabled children and teachers to develop a strong connection with our local community.
Local spaces and places offer an amazing fusion of urban city-life and natural wonderlands. Neighbouring Auckland Domain offers children and teachers parklands, bush and large open spaces to explore.
The grounds of Auckland City Hospital offer intriguing pathways and buildings to investigate, and a magnificent vista of the Auckland cityscape.
The Auckland Museum, Parnell Library and the Auckland Art Gallery are also easily accessible and full of opportunity for stimulating encounters.